Q & A with Professor Maya Katz
In this interview, LCW's unique art history professor talks about her experience as a scholar, her current and future publications, and her writing inspirations.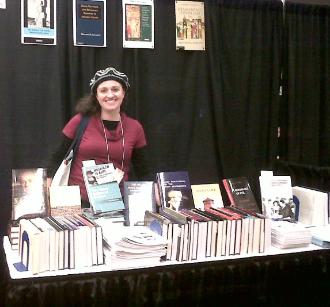 Professor Katz at the Cambridge University Press display with her first book at the Association for Jewish Studies conference.
Maya Balakirsky Katz, PhD, is Professor of Art History at the Lander College for Women of Touro College and on the faculty of Touro's Graduate School of Jewish Studies. She earned her master's and doctorate in art history at Bryn Mawr College. She is editor of Revising Dreyfus (Brill Press, 2013), co-editor of Images: A Journal of Jewish Art and Visual Culture, and the author of The Visual Culture of Chabad (Cambridge University Press, 2010); her book Drawing the Iron Curtain: Jews and the Golden Age of Soviet Animation is forthcoming with Rutgers University Press. In this interview, we spoke to Professor Balakirsky Katz about her undergraduate experience at Touro, her inspiration and motivation to write, and why she'd love to gossip with Valentina Brumberg.
Q: What did you study as an undergraduate at Lander College for Women?
A: I went to Touro College when it was still at 30th and Lexington, and I studied Professors Sara Friefeld, Arthur Budick, and Michael Popkin the way one studies a text. My major was of secondary import, because these people changed my life and kindled my desire to learn. Dean Friefeld helped me reconcile my love of western literature and art with my Torah worldview, Professor Budick taught me how to write, and Dr. Michael Popkin taught me how to read.…
How did these Touro professors guide you on your path to art history? What did you want to study when you were young?
Like everyone who grew up in the '80s, I wanted to be a rock star. By the time I came to Touro College, though, I had an unswerving desire to be a teacher and declared my intentions to major in "Early Childhood Education" to my parents, who told me that in that case, I should get a full scholarship. I was no cynic and financial concerns were not going to stand in the way of my dreams. On my first day at Touro, I met Professor Popkin, who told me that I was smart enough to major in "Language and Literature," and since no one ever told me that before, I was like... "ok, English then."
We read that you were awarded a grant from the Brandeis-Genesis Institute, supporting research projects in the field of Russian Jewish experience. Can you tell us about your book-in-the-making, Drawing the Iron Curtain: Jews and the Golden Age of Soviet Animation?
I am very excited about this project. For anyone who grew up during the Reagan years or played a role in the Soviet Jewry movement (shout out to David Luchins!), they might imagine the Soviet Union was a drab cultural wasteland where real art—and certainly Jewish art—was strictly prohibited. It has been a revelation to learn that, despite the many state restrictions, the animation industry and its predominantly Jewish labor force flourished in the Soviet era. Drawing the Iron Curtain tells the story of the golden age of Soviet animation and the Jewish artists who enabled it to thrive. I survey a wide range of Soviet animation produced between 1919 and 1989, from cutting-edge art films like Tale of Tales to cartoons featuring "Soviet Mickey Mouse" Cheburashka, to demonstrate how Jewish artists expressed themselves and shaped a cosmopolitan sensibility and multicultural vision for their country.
The most exciting part of the project was the discovery of very thinly-veiled Holocaust films with Jewish-inflected characters. Who knew that it would be the Soviet Union that would animate the horrors of the Jewish experience during the war?
It sounds fascinating. Has your study of art impacted your Judaism? Do these passions exist in tension or complement one another?
Every interviewer asks me this question so I have had the opportunity to try out many answers and know which resonates. Tension is my ideal state. I am a reader and writer and viewer whose observations are informed by her religion, gender, and age, amongst other things I'm sure. I am also a middle-aged Orthodox Jewish woman whose self is informed by my reading and writing. This multidirectional influence lies at the crux of how I bring art into the classroom. What sort of "self" are we dealing with? What sort of "art?" The "visual turn" arrived belatedly to the field of Jewish studies, where the subjects of study have long been celebrated as "the people of the book" and their culture as a "logocentric" one. Yet, the Jewish people have also produced a treasure trove of ceremonial objects, architectural wonders, and popular media. I don't think of material sources as a repudiation of textual ones (even when sources conflict with one another), but as revealing new aspects of legitimate experiences through the field of vision. No one would, for example, deny that the observation that an apple is "red" and "shiny" negates the taste of it as "sweet" and "mealy," or that one sense is somehow more accurate than another. Only in the "tension" between the different conclusions that our different senses evoke can we begin to understand the full experience of life. Thus, on those occasions when I am able to open a new window through which to see Jewish history, I experience the spiritual tensions that enlightenment charges at its door.
You've produced a tremendous amount of scholarship on Jewish visual culture—in addition to being a researcher/scholar, writer, and editor, you are also a professor! What is (most) important to you to convey to your students about art and Judaism?
I believe teachers must prepare their students with the analytic skills necessary for the responsibilities of our profession, marked by the ability to make connections between context and theory. Economic conditions, changing expectations, and increased public scrutiny make this a challenging time for young professionals headed for the job market but a background in the humanities, and the analytic and writing skills that background provides, also becomes one of the most necessary skills in the modern workforce. I also believe that teachers must stir the desire for enlightenment necessary for their students' spiritual lives. In my classroom, I strive to stir this desire by invoking a community of thinkers, writers, artists, and patrons rather than presenting a single work or even the work of any one mind.
While students must produce written work in any Humanities course—a process I feel deep empathy towards—I stress the skill of sensitive reading above all else. I teach reading in layers, each layer connected to the other, but requiring different proficiencies on the part of the reader: literacy in the period in which the work was created, new technologies of knowledge available to the contemporary reader, and reading for what is not being expressed. I believe that owning a text (whether word, image, or musical notation) is a life-long pursuit and inherently teachable. While every type of source requires an approach that speaks to its particular medium, I believe in the fundament that no one type of text can fully narrate history. Each vehicle of communication encodes a particular point of view, whether cultural, ethnic, gendered, religious, intellectual, or economic. Only a dogged determination to know and to understand will enroll, teach, inspire, and graduate students who will move us toward a transparent world they are able to navigate.
What is the writing experience like for you? Why do you write?
Writing is the way I serve G-d. I know, I know, but I'm still willing to say it. Like any Divine service, writing is not about the end product but about the process. For me, writing is often painful, lonely, and frustrating but it is the only way I know how to understand things. My daughter is a "sensory learner" so, when she was in kindergarten, we spelled out the aleph-bet in shaving cream on the kitchen table so that she could trace each letter over and over again with her finger until she could hold onto the letter in her mind. I learn by writing, and this means rewriting and rewriting over and over again, until the thing becomes real and I can hold onto it.
If you could meet any thinkers, writers, or artists, who would they be and why? What would you ask?
Shneur Zalman of Hebron, Valentina Brumberg, and Sigmund Freud. Shneur Zalman of Hebron was a nineteenth-century artist-emissary who travelled throughout the Sephardic world searching for himself and for sponsorship of the Chabad synagogue in Hebron. His adventurous spirit and commitment to G-d through his art was so interconnected that we can literally feel it in his intricate Shiviti placards. I'm drawn to this artist because of his Aliyah, his wonderlust, and his art and I want him to answer the "tension" question you posed to me earlier.
Valentina Brumberg was a Jewish animator that defined the industry through much of Soviet history. Given their father's political leanings, cultural activities, and profession as a physician (one of Stalin's most hated professions), there is little biographical information available on Valentina. However, her father was one of the most committed Jewish activists in Moscow in the first two decades of the twentieth century and my research has demonstrated his influence in her work. I would like to know so much about her, her family, her work, and her views. I would ask her about each and every film that I've watched over the last three years and, since she was a famous socialite, I may also exchange a bit of gossip about Moscow's Jewish intelligentsia during the Cold War.
And Sigmund Freud—I consider him one of the greatest visual thinkers because he taught us that people think, dream, and behave in symbols. It is fascinating to think how psychoanalysis (a discipline founded and popularized by left-wing Viennese Jews) treated art history (a discipline founded and popularized by right-wing German gentiles seeking to identify national bloodlines with the Greco-Roman past). I would undoubtedly ask him to analyze me.
What's the next writing project you have in mind?
After Drawing the Iron Curtain, I want to focus on the Jewish creative spirit in the Islamic world, such as in Tajakstan, Azherbaijan, and Georgia as well as the Yishuv artists whose roots were inextricably tied to Iran, Morocco, and Yemen.
What continues to inspire/motivate you to keep writing?
Inspiration and motivation are two different things, of course. My students inspire me; my research interests have always changed with my student population. My Chabad students inspired me to write about Chabad's use of media and visual culture, and the fact that Disney animation is pretty much the only films I can discuss that the entire class has seen inspired my interest in Jewish animation. Meanwhile, the motivation business is much more conscious. I have to set times to read and write, tie snack breaks to pages read and vacation time to pages written, use office space in the offices of friends, bribe librarians with treats in exchange for access (in Russia, chocolate is not considered a bribe but a sign of manners), have coffee with colleagues in the field, and so on. One day, I'll admit that I work because I have a compulsive need to organize my life rather than the other way around.