Integrating Academia and the Rabbinate
Akiva Eisenstadt, Assistant Rabbi of Congregation Shaarey Torah, Examines Halakhah During the Holocaust at Touro's Graduate School of Jewish Studies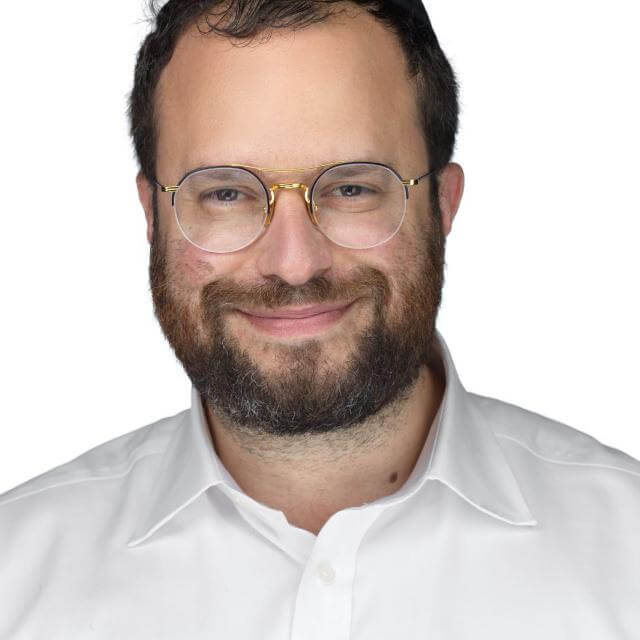 Akiva Eisenstadt wears many hats: husband, father, businessman, and community leader. For the past 15 years, he has served as Assistant Rabbi and Rosh Kollel of Congregation Shaarey Torah, affectionately known as "The Shtieble," in his community of Manhattan Beach, Brooklyn. He also oversees business development for his wife's interior design business. And perhaps his most important role is father to his five children, ages 7 to 15.
Even with all that is on his plate, he wanted to follow his lifelong passion and further explore Jewish History. Akiva initially became interested in Jewish History as a young boy when he read Rabbi Berel Wein's riveting accounts of Jewish history. The books lit a spark in Akiva that followed him throughout his life. Whether at yeshiva, or at Johns Hopkins University, or now at the Shtieble, understanding the past became his way of better understanding the present.
Akiva decided to work towards his master's degree in Jewish History at Touro's Graduate School of Jewish Studies (GSJS) because he wanted to continue his learning at a top-notch university that would also accommodate his busy professional and family life. "Dean Shmidman brought together some of the best minds in Jewish History," he noted. "Learning with professors like Dr. Bleich really provided a rich, Torah-based perspective of the past."
Akiva has already put this knowledge to use. As Rosh Kollel at the Shtieble, Akiva runs programming for the shul and is heavily involved in making this close-knit, seaside community more attractive to Jewish families. One way he does this is through weekly Torah emails to the congregation. He shared insights gleaned from Dr. Mordecai Paldiel, Adjunct Professor at GSJS and former director (1984-2007) of the Department of Righteous Among the Nations at Yad Vashem, concerning commitment to halakhah during the Holocaust.
Akiva carefully laid out the often heart-wrenching challenges that were faced – Can one substitute and save one person in mortal danger with the life of another? Can one person be handed over to the Germans in order to save a vast number of people? Should Shabbos be put aside in order to save the lives of Jews? These trying and difficult topics were asked of rabbis, and Akiva wanted to share how Jewish law was interpreted during the most tragic of times. "I was grateful to have gained this deep understanding and wanted to pass it along to my congregation," he said. "To understand the attachment to halakhah even in the worst of times, helps us appreciate and value Torah even more today."
Upon completion of his degree, Akiva plans to continue to integrate his studies into his many personal and professional roles.