Making the Holocaust Relevant to Today's Generation
For Touro Graduate School of Jewish Studies Alum, the Personal and Professional Intersect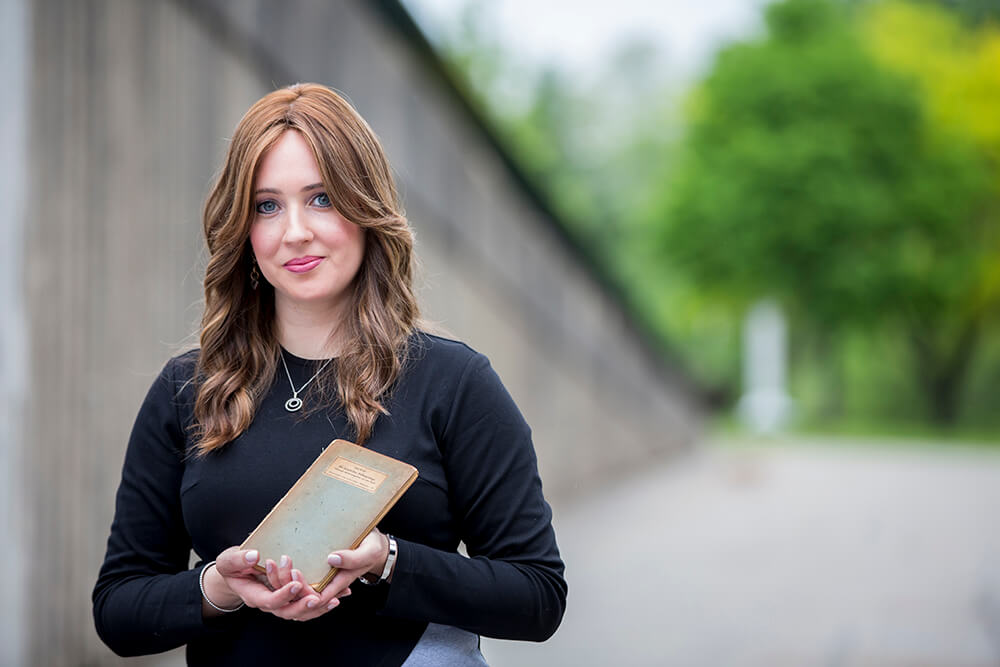 When Julie Golding's grandparents decided to visit the local Holocaust museum in Miami Beach, they arrived at the exhibition, reflected at the memorial outside and both began to cry. They got right back into their taxi and returned to their hotel. Explains Julie, "My grandmother told me that museums were not for those who had experienced the horrors of the Holocaust, but for the next generation that needs to learn and remember." Julie often thinks about this incident when she's designing exhibits and programs at several Holocaust museums where she has worked. "I'm always trying to ensure that the information is relevant and accessible to the next generation. Today there are very few living survivors. We are at a crossroads between lived memory and historical memory and the work of museums is becoming even more important."
A Fact of Life
For Julie, the specter of the Holocaust has been a fact of life. Her grandmother was a Danish Jew who escaped to Sweden on the eve of Rosh Hashana 1943 during the famous rescue of Danish Jewry. She survived along with the rest of her immediate family. In contrast, Julie's grandfather was the sole surviving member of his family. After fleeing from Germany to Holland, he joined the Dutch resistance movement. He was eventually captured and interned in the Neuengamme concentration camp. After the war, he was sent as a refugee to Sweden where he met Julie's grandmother. Two years later, they got married in Copenhagen and later immigrated to New York.
Recalls Julie, "I was very close with my grandparents and inspired by their strong faith despite what they experienced. My grandmother was always willing to speak about her life during the Holocaust." It was different for Julie's grandfather. "He did not talk much about what he went through and I grew up knowing that there were certain things you just never asked him. This dichotomy intrigued me and it played into my decision to further my knowledge about the history of the Holocaust."
Looking for Answers
This desire for answers has been a theme running through Golding's life, studies and career choices. At Touro's Lander College for Women, she developed a passion for Jewish history and studies. Following graduation, she continued her academic pursuits and earned a Master's degree in Modern Jewish History at Touro's Graduate School of Jewish Studies and then an MA in Educational Leadership and Administration from the George Washington University. During a relocation to Israel, Golding conducted research at Yad Vashem, the World Holocaust Remembrance Center, and worked there as an educational consultant. It was at the museum that she saw a way to combine her passion of history, her family's tradition of education and her love of learning through the development of museum programs for children. "My great-grandfather was the headmaster of the ILBA Teacher's Seminary in Wurzburg, Germany. My grandfather followed in his father's footsteps and was a teacher for more than 50 years. Many of my grandfather's teachingshave influenced the way I think, and engage my own students, in this difficult history."
Connecting Kids to the Past
in Brooklyn, a living memorial to all the victims of the Holocaust with special emphasis on the perspectives of observant Jewish communities and the role of faith and identity within the broader context of the Holocaust. While there, she developed programs for kids based on objects, documenting the micro-histories of Holocaust victims. Explains Golding, "Kids connect to artifacts and the stories associated with them – passports, documents, Ghetto currency, kinder transport tags. Children say, 'That's real' and suddenly history comes to life."
Wexner Fellowship
More schooling will soon earn Golding a Doctorate in Jewish Education. "I want to study how learning about the Holocaust impacts students and how to better train educators to teach this important piece of history," she says. In 2017, Golding was named a Wexner Graduate Fellow & Davidson Scholar, a four-year fellowship program granted to exceptional candidates with strong personal commitments to the Jewish community, a record of demonstrated excellence in academic achievement, and the potential to assume significant professional leadership roles in the North American Jewish community.
During her fellowship, Golding is continuing her work in Holocaust education research and teaching Holocaust studies at the Bais Yaakov Machon Ora and Ateres Bais Yaakov schools. "I'm named after my grandfather's sister, Julie, who was murdered in Sobibor in 1943. My grandfather's sister was a teacher like me and I keep a picture of her on my desk," explains Julie. "I've been told that she was intelligent, vivacious and independent. The least I can do is ensure that her memory, and the memory of the other six million Jews who perished in the Holocaust, are not forgotten."
Julie is also hard at work at the Holocaust Museum & Center for Tolerance and Education in Suffern, New York where she is curating exhibitions and developing a multi-functional museum and educational resource center for students and teachers. Julie is working with the museum to expand their audience and make their collections more accessible to the community. Recently, she curated an exhibition for them entitled, "Resilience," that will preview this summer.
The People Who Inspired and Supported Her
Reflecting back on her studies and the people who inspired her, of which there were many, she speaks often of the dean of Touro's Graduate School of Jewish Studies, Dr. Michael Shmidman. "He said, 'Graduation is just a formality.' And he was right. Even though I have long since graduated, he has continued to be so supportive of my work. I can call him any time for advice and recommendations. He reaches out to me with opportunities. I am so thankful to the people like Dr. Shmidman who believed in me."