Mitzvah in the Making
Jewish Studies Alum Inspires Thousands to Reclaim Their Heritage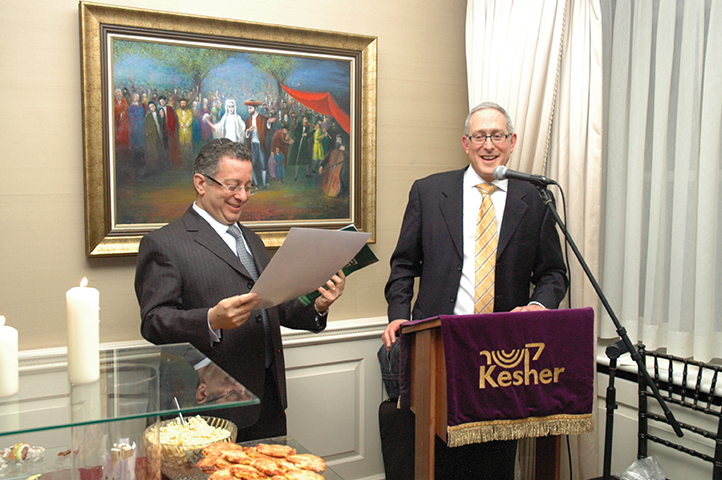 The course title, "How to Read a 5000-Year-Old Language in Five Easy Lessons," offered by the Jewish Learning Exchange (JLE) in London, caught the attention of the young, well-heeled professional set who were searching for Jewish meaning and identity. Rabbi Rashi Simon, an insightful and witty American who founded JLE in 1989, drew people to the organization with his energy and creativity, along with trailblazing, explanatory crash courses in Judaism.
Fast forward more than 25 years. Rabbi Simon's outreach has touched thousands via his teaching, as well as his work inspiring and helping to set up regular Shabbat and annual High Holiday explanatory services in 30 synagogues around Great Britain. In 1997, he founded Kesher/The Learning Connection in London as an outreach organization, and then in 2004 he expanded it into a synagogue community, Kesher Kehillah, where today he is the Rabbi.
At Kesher, he's pioneered concepts such as "Lunch & Learn" Jewish education sessions in the City of London. He has created a community that is welcoming to Jews of all levels of observance in an environment that is halakhically authentic, intellectually stimulating and spiritually fulfilling. Young Londoners interested in finding out more about their Jewish heritage are drawn to Simon and his wife, Ruthie, a native of Los Angeles, who is a full partner in her husband's efforts.
Rabbi Simon can trace influences on his work all the way back to his upbringing in Indiana and his education, including the years he spent at Touro where his eyes were opened to Jewish studies. Raised near the campus of Purdue University, where his father taught microbiology, Simon's was the only Sabbath-observant family in town. "My parents accomplished the improbable. They raised four children who grew up to become Jewishly committed. The two boys became rabbis and the two girls married rabbis," explains the Rabbi.
While studying at the Rabbinical Seminary of America (Yeshiva Chofetz Chaim) in Queens, NY, Rabbi Simon attended Touro College, majoring in psychology with plans to go on to law school. While at Touro, he also took a few courses in Jewish studies and was introduced to a whole new world. "I became exposed to new vistas of Jewish wisdom. We studied rabbinic texts, philosophy, history and literature that I found inspiring and fascinating," Simon recalls. "Jewish studies in an academic context were so different from learning at the Yeshiva." Upon earning his undergraduate degree, he entered Touro's graduate school where he pursued a master's degree in Jewish History. "Jewish studies in an academic setting sometimes can be overly critical of and antagonistic to religious traditions. At Touro, they offered an approach that was appreciative and respectful but also rigorous, academic and illuminating."
Upon earning his M.A. from Touro's Graduate School of Jewish Studies in 1987, he entered rabbinical school in Israel. Once ordained, "a job in London came looking for me," he recalls, and work building the Jewish Learning Exchange (JLE) began. The organization's outreach and educational programs aimed to show the relevance and a deeper meaning of Judaism to enable Jews to make informed life decisions. "Americans in England are seen as innovative and forward-thinking, and this novelty and appeal made the programming more attractive," explains Simon. Since he began, his focus had been to provide the highest quality educational and social opportunities in a relevant and welcoming environment.
"Throughout my work, I've drawn upon my Touro education," says Rabbi Simon. "The skills and knowledge that I acquired there, I still remember more than 30 years later." Judith Bleich, Ph.D., who taught modern Jewish history, and Michael A. Shmidman, Ph.D., Dean of the Graduate School of Jewish Studies, left lasting impressions. "Their approach and teachings and the knowledge they imparted are still with me today and I've drawn upon these tools in my work ever since."