Pandemic Proof
Creating Outcomes that Go Beyond our Current Circumstances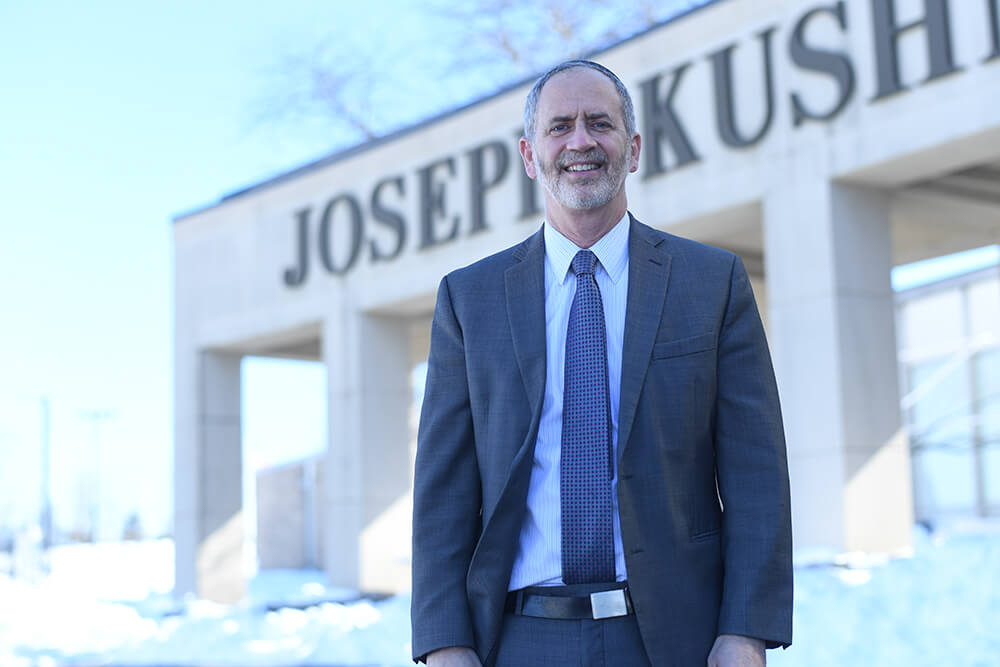 Rabbi Eliezer Rubin at Kushner Academy.
We talked with Graduate School of Jewish Studies alum Rabbi Eliezer Rubin, Head of School, Joseph Kushner Hebrew Academy/Rae Kushner Yeshiva High School (RKYHS). Read how he uses his role as principal to create outcomes that go beyond our current circumstances.
Could you describe some of the challenges you have experienced when the pandemic struck and since?
With students, parents and faculty, we have more than a thousand people in our community who needed to learn, adapt and readjust to the new norm. Educators have to look at the story of every individual person in a normal year, and during the pandemic, we had to look through the microscope to better understand how to meet the needs of all of our constituents while upholding our academic standards. Pivoting to remote learning, it's easy to lose the bonds and support that community offers. Viewing students through the miniaturized win­dows of Zoom limits our ability to interpret social nuances and blurs the messages that are normally transmitted through a personal exchange. During the lockdown, we needed to proactively reach out to our community, offer emotional strength and en­courage resilience. Our efforts were critical in mak­ing sure that our students would be able to learn and our teachers would be able to teach.
What were some of the creative solutions you de­veloped to help teachers deliver lessons by Zoom and keep parent and student morale up to keep them engaged?
We were much more proactive in following up with student absences. If a student was absent for more than a day, a member of our guidance team, a teacher or staff member called home to find out if there were any personal circumstances that would prevent the student from learning. For example, was the family unsettled, was it a health issue or home pressures that may have im­pacted a student's focus and engagement? And just as we had to adjust to remote teaching, students had to adjust to learning electronically.
Another adjustment was guiding teachers in how students could best learn using multiple electron­ic platforms. We invited students to use their cell phones as learning tools. Deployed correctly, smart­phones generated more one-to-one feedback, showing whether students processed the material. Teachers would be able to then graph, chart and re­cord student responses and use the data to refine instruction.
Because, otherwise, you didn't know if they were engaged or not?
We didn't know. In a classroom, you could look somebody straight in the eye and have a better chance to read a child. But on Zoom, you could be talking to them and they could be distracted.
A valuable lesson that students learned from this episode was that at a certain point, students have to be responsible for their own learning. Our job was to help them be responsible for their learning. We had to create multiple iterations of scheduling un­til we found the balance between teaching to stan­dards and giving kids adequate time between class­es to process their learning. Our remote schedules aligned with instructional needs and supported the student experience.
We also created a lot of online programming. We had nighttime programs, such as trivia contests or group exercises. We have a guest speaker program and we have some very involved kids in clubs. Slow­ly, we started migrating what we had in school onto our remote platform, so kids were able to regain some normalcy.
Will many of these innovations outlast the pandemic?
Because we are on Zoom, we're able to do things now that we were never able to do. After George Floyd was killed, we booked an African American CNN correspondent to speak to our students about racism. U.S. Senator Corey Booker came to speak with our little group of students and addressed just them in a personal way.
Another important outcome is that our students learned that they do not need to rely on the adult community to support people in need. During the pandemic, students clearly internalized their learn­ing and initiated many programs to help others. Stu­dents recognized that as young people they were uniquely positioned for the task. They had the phys­ical resources, good health, lower risk of getting sick and as a result, many students started owning opportunities to help and support others. We had a group of students in our computer science program, for example, who created an algorithm for people to submit lists when they needed groceries and the software electronically connected them with RKYHS students who volunteered to shop for them.
We had students involved in PPE distribution. Some students wrote notes to elderly homebound people they did not even know. Beyond the kind acts, what impressed me was how students invented charitable opportunities. They were not participating in orga­nizational activities adults created. They launched programs themselves.
On the educational front, we started a joint, shared seminar with students from the St. Benedict's Prep School, a Catholic boys' school, to learn together about antisemitism and racism. Our teacher intro­duced a syllabus on racism and antisemitism, how they intersect and how they are different. Students from both schools share their learning and reflec­tions with one another. This could only happen be­cause we are learning remotely.
How did your Touro education prepare you for your current role?
My Touro learning is critical to my teaching, and to who I am as a religious person. And even though I have other roles, underneath all that, I am here in my professional role to be the Rabbi and principal of this school.
I speak often to students about the bravery and courage of Jewish leaders throughout history. I go back in time to the days of the Maharam of Rottenberg and try to get our students to understand what it was like to be living as a Jewish minority in Christian-dominated Europe. Through my learning at Touro, I gained a deep appreciation of Jewish history in a very nuanced way. History teaches us how we move forward. We draw inspiration from understanding and appreciating the rabbinic leaders who lived in those times; we feel the tensions, pressures and conflicts that they felt and we learn from there how to sustain the Jewish people.
It's important for us to understand that Torah is not static. It is not that this is the way we do things because we always did it that way. We must first understand outside forces that affect us and how we respond to them as authentic Torah Jews. Throughout all my Touro studies of Jewish history, that was an especially important theme—people who had to transition tradition and transform it. I am grateful for Touro, because I see the eternal value of the Jewish people manifest through history.
Do you have any advice for educators and princi­pals who want to enter the field today?
A lot of leadership is understanding the nature of organizations and knowing when to be supportive and empathic and when to be administrative and authoritative. There's a lot of tension in this job, and there's always a pull and a push. A principal and leader must walk a fine line—to be determined and humble, to speak up but not be outspoken, to be heard and know how to listen. Leaders must find the right balance.