Up Close With Graduate School of Jewish Studies Dean Michael Shmidman
Dr. Michael A. Shmidman has served as Dean of Touro Graduate School of Jewish Studies since 1986, and was appointed to the Victor J. Selmanowitz Chair in Jewish History in 2003.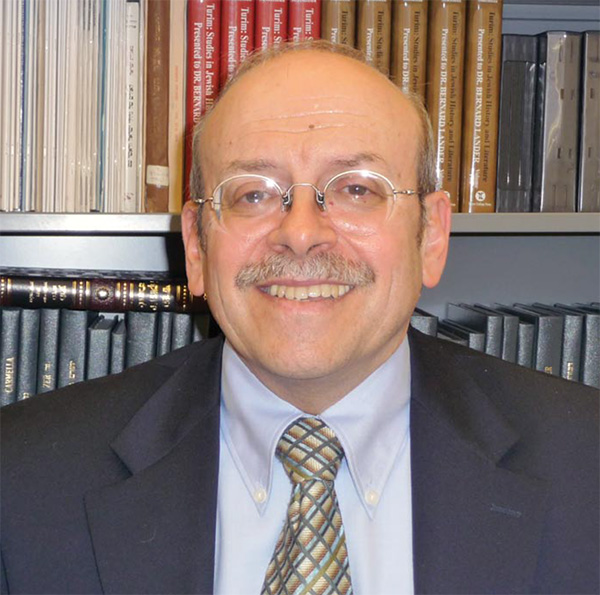 Dr. Michael A. Shmidman has served as Dean of Touro Graduate School of Jewish Studies since 1986, and was appointed to the Victor J. Selmanowitz Chair in Jewish History in 2003. He has been a member of Touro's faculty and administration since 1981, when he was recruited to serve as the first director of the newly established Graduate School of Jewish Studies.
Professor Shmidman earned a bachelor of arts degree from Yeshiva University, a master of arts degree from Hebrew University of Jerusalem and a Ph.D. from Harvard University. He taught at Harvard, the University of Cincinnati and Yeshiva University prior to his appointment at Touro.
Medieval Jewish history and Maimonidean studies are the focal points of Dr. Shmidman's research. He recently edited and contributed to a two-volume Festschrift entitled Turim: Studies in Jewish History and Literature Presented to Dr. Bernard Lander and established the new Touro College Press imprint in publishing. Dr. Shmidman is also co-author of a two-volume Hebrew textbook on Maimonides entitled Law and Philosophy: Perspectives on Maimonides' Teaching. He has published numerous articles and lectured extensively in his areas of research, and often serves as a scholar-in-residence at synagogues and Jewish communal institutions. Dr. Shmidman was editor of Tradition: A Journal of Orthodox Jewish Thought from 2001 to 2004.
An ordained rabbi, Dr. Shmidman served as Orthodox rabbi of Harvard Hillel from 1974 to1976, and as rabbi of Congregation Keter Torah in Teaneck, New Jersey from 1998 to 2003. He is a member of the Association for Jewish Studies, the Medieval Academy of America, and the Rabbinical Council of America, and was a member and officer of the Rabbinical Council of Bergen County.
Dr. Shmidman recently spoke to Touro Links magazine about his career, his accomplishments at Touro's Graduate School of Jewish Studies and his vision for the school's future.
LINKS: What inspired you to go into the field of Jewish Studies?
DR. SHMIDMAN: I was born in Brooklyn, New York, the son of a prominent rabbi and Talmudic scholar. Early on I assumed that I would pursue a rabbinic career, and in fact, I did earn rabbinic ordination. However, along the way I developed a passionate interest in academic Jewish studies that led me to study Jewish philosophy at the Hebrew University of Jerusalem and medieval Jewish history at Harvard University.
LINKS: Can you tell me about the academic path that led you to Touro College?
DR. SHMIDMAN: In the late 1970s I took a position at the University of Cincinnati as assistant professor of Judaic studies and during my second year there I was recruited by Yeshiva University to come back east to teach at that institution. Soon after I began teaching at Yeshiva University, I received a call from Touro College asking me to direct their new Graduate School of Jewish Studies. I was intrigued by that challenge, and in 1981 I came to Touro as the first director of the Graduate School of Jewish Studies. I have been involved with the graduate school ever since, serving as dean since 1986.
LINKS: Why do you think Touro College recruited you to be director of its first Graduate School of Jewish Studies?
DR. SHMIDMAN: At Harvard, I had the privilege of studying with Professor Isadore Twersky, of blessed memory. Dr. Lander had great respect for Professor Twersky, who was a preeminent academician and an outstanding rabbinic figure as well. I had studied medieval intellectual Jewish history with him, which was Dr. Lander's focus at the time – the religious, literary and cultural history of the Jewish people. That kind of work was close to Dr. Lander's heart. He himself had served as dean of the Bernard Revel Graduate School of Jewish Studies at Yeshiva University and he viewed the material that I studied as particularly central to this type of program.
LINKS: Why did you decide to join Touro College as director of the Graduate School of Jewish Studies?
DR. SHMIDMAN:It was an intriguing and formidable challenge to establish a new graduate program in Jewish studies and I was eager to attempt to fulfill that mandate; to meet that challenge, and that's what I've tried to do. We established a graduate school, which I am proud to say was quickly recognized as a quality program with a distinguished and dynamic faculty, well trained students, and a rigorous, well-designed curriculum.
LINKS: What have you enjoyed most about working here at Touro College?
DR. SHMIDMAN: Above all, I enjoy working with my students and faculty colleagues. Some members of the faculty have been here from the start when we established the program in 1981. Our more recent colleagues also form a particularly stimulating and collegial group. The high degree of collegiality in this faculty is highly unusual for any university. It also has been a pleasure to work with the students, many of whom are both well trained in Jewish studies and are among the brightest and most promising of graduate students in the field. In addition, it was always a pleasure and a privilege to work with Dr. Lander who gave me the opportunity to establish a program in my own field of interest, a remarkable degree of freedom in formulating the curriculum and supervising the program from the start, and who has lent his complete support—both financial and otherwise—to this program throughout its existence.
LINKS: What do you feel your major accomplishments have been as dean of the Graduate School of Jewish Studies?
DR. SHMIDMAN: We quickly gained a reputation for quality that we've maintained. In fact, the Middle States Association— the accrediting agency for all the colleges in this area—called our graduate program a 'model of excellence' when it visited Touro in 2004. That evaluation echoes the glowingly positive reviews we received throughout the previous two decades.
Another accomplishment I am proud of concerns student outcomes. I am proud of the fact that our students have moved into careers in either academia or Jewish education and have been successful in their career pursuits. Most of our graduates have opted for careers in Jewish education, usually in yeshiva high schools or day schools, and they serve as teachers and administrators. To cite just one example, the headmaster of Kushner Academy in Livingston, New Jersey, is one of our graduates. We are particularly pleased that some of our alumni continue at Touro as members of the faculty on the undergraduate level. A significant number of our students have continued on to doctoral study. Those students who have applied to doctoral programs over the years in Jewish studies have been accepted by leading universities including Yale, Columbia, Brandeis, NYU, Yeshiva University, Emory University, CUNY Graduate Center, Hebrew University of Jerusalem, Bar Ilan University and Tel Aviv University.
I am also proud of the development of an offshoot of the graduate school, namely Machon Lander in Israel. In the summer of 1986, at President Lander's initiative, I went to Jerusalem to establish a branch campus of the graduate school. I recruited a colleague of mine, Dr. Carmi Horowitz, and together we taught all the summer courses to a group of a dozen students. That branch campus subsequently grew dramatically until it reached an enrollment of 200 to 300 students a semester and featured numerous world-renowned faculty. This program continued successfully as a branch campus of our graduate school until 2004.
By that time, Israel's Council for Higher Education, which accredits the schools, basically presented branch campuses of foreign institutions with a choice: either leave or apply for accreditation with the Council of Higher Education as an Israeli institution under its academic control. We opted for the latter option, went through a rigorous review, and were granted accreditation as an Israeli institution. Our former branch campus in Israel now became an independent Israeli institution, which was renamed Machon Lander or the Lander Institute, with Dr. Horowitz as rector.
Since 2004, we have maintained a special relationship with Machon Lander. For example, we co-sponsor conferences and we have an arrangement in which our students can pursue thesis research with their faculty and vice versa. Our former branch campus has evolved into a major Israeli educational institution with undergraduate, graduate and continuing education programs enrolling several thousand students. It is gratifying to note that alumni of our branch campus over the years have been appointed to major educational positions in Israel, with some serving as senior officials at Israel's Ministry of Education.
LINKS: What do you feel Touro's Graduate School of Jewish Studies has to offer students that other colleges might not?
DR. SHMIDMAN: I think we have particularly comprehensive offerings in the areas of medieval and modern Jewish history, literature and thought. We also pride ourselves since the establishment of the program on close student-faculty interaction. We have faculty that spends innumerable hours mentoring students and I often have been told by graduates of our program who went to pursue further graduate study at other institutions that they have never experienced this kind of close interaction with faculty subsequent to their study at Touro.
Moreover, many of the courses in our curriculum specifically respond to the interests of our students, many of whom have a strong commitment to Judaism and the study of rabbinic literature.
LINKS: What is your vision for the future of the Graduate School of Jewish Studies going forward?
DR. SHMIDMAN: The centerpiece of our future plans is our proposed Ph.D. program in Jewish history. In anticipation of the proposed doctoral program, we have enhanced our graduate program in a number of ways. We have made new appointments to the faculty, including, most recently, Dr. Natalia Aleksiun, a leading expert on Eastern European Jewish history and the history of the Holocaust. We also have inaugurated a series of annual academic conferences that we sponsor or co-sponsor. In addition, we have established a new scholarly press under the imprint of Touro College Press, with the first publication being a two-volume Festschrift presented to Dr. Lander.
We have also significantly augmented our library holdings in Jewish studies. As an example, we have purchased the entire collection of Hebrew manuscripts and incunabula (a Latin term meaning 'cradle' that refers to books printed before the year 1501) of the Jewish Theological Seminary library on microfilm, along with other major archival collections on microfilm or microfiche.
Finally, in terms of the future, we are just beginning several additional programs. For example, this past summer we established an MA track in Jewish education at the Lander College for Men in Queens. It is the first time we are offering anything in Queens. And this past year we extended our MA in Jewish Studies to the Berlin, Germany campus with a concentration in the History of the Holocaust.
We are also in the planning stages of a distance- learning program in Jewish studies featuring online courses that could be utilized globally for graduate study.
LINKS: How is the Graduate School of Jewish Studies affected by the new Touro College Division of Graduate Studies?
DR. SHMIDMAN: It is a significant change. We have been a little independent fiefdom all these years. I can honestly say I am excited about being a part of a broader Division of Graduate Studies. I am enjoying the interaction with the deans of the division and together we are brainstorming about ideas for more efficient and more creative administrative procedures and the possibility of joint programs or interdisciplinary programs. PR, marketing and advertising can now be prepared on behalf of a centralized unit. All the brainstorming and interaction with my fellow deans and the new procedures and policies that are being put into place on a centralized basis are certainly helpful to the operation of the Graduate School of Jewish Studies.
LINKS: You explained that you also have rabbinic ordination and served as a pulpit rabbi twice. How do you compare the two careers and why did you choose the academic path?
DR. SHMIDMAN: It was not an easy decision; both paths are rewarding. However, I had spent many years developing a particular scholarly methodology—a close study of texts, tracing the development of ideas and interpretations of rabbinic and biblical literature as a barometer of cultural and religious attitudes in different periods. I wanted to train more students and publish in that specialized area and that is what I am trying to do now.
LINKS: Can you tell Links a little bit about your personal life? How many children and grandchildren do you have? What are your hobbies and personal interests?
DR. SHMIDMAN: My wife Linda and I are married 37 wonderful years and have four married children. We have been blessed with 18 grandchildren. My wife is a veteran third grade teacher at the Yeshiva of North Jersey. She has a master's degree from Columbia in special education for the visually handicapped, and taught in the 1970s at the School for the Blind in Jerusalem. As to hobbies, I enjoy traveling with my wife, playing baseball, learning with our grandchildren and reading in a wide variety of disciplines.
Graduate School of Jewish Studies Offers New Master of Arts Concentrations in Jewish Education, Holocaust History
Touro's Graduate School of Jewish Studies has recently begun offering a new MA track in Jewish education at the Lander College for Men in Queens and a new master's concentration in Holocaust history at Touro's branch campus in Berlin, Germany.
"Last summer we began offering a new specialization in Jewish education at the Lander College in Queens," said Dean Michael Shmidman. "Students will be taking courses focusing upon the history and philosophy of Jewish education, psychology of Jewish education, curriculum of the day school, and methodologies of teaching diverse subjects in Jewish studies."
Dr. Shmidman said the new master's concentration in Jewish education marks the first time Touro College's Graduate School of Jewish Studies is offering graduate courses in Queens. "We hope that students at the Lander College for Men, Yeshivas Ohr Hachaim and other yeshivot and colleges in the area will take advantage of this exciting new opportunity to prepare for a career in Jewish education."
Dean. Shmidman said the Graduate School of Jewish Studies also recently started offering its master's degree in Jewish studies with a concentration in the history of the Holocaust at Touro's Berlin campus due to the German city's resources and location. "Berlin is a critical venue for serious scholarly exploration of this subject," he said.
In addition, Touro is working with the European Union toward providing courses for teachers in Europe on the history of the Holocaust. "Teachers in Europe need to be trained in teaching Holocaust history in order to provide their students with a better understanding of the Jewish experience in Europe and of the horrific consequences of anti-Semitism," Dr. Shmidman said.
This article appeared in the Spring 2010 issue of Touro Links, the graduate division magazine of Touro College.